E-Commerce in Rural India
(Indian Rural Market is the new target for business)
Way of business in India is changing very rapidly. Because of adoption oh high end technology business is going pocket sized with increasing efficiency. Today Indian business sector is going online. Most of the firms are trying to go online to increase their span of the reach, but still these E- Commerce portals are limited to urban or semi urban areas. Here I would like to emphasize on large market size of India which is still untapped and hiding tremendous opportunities which can be tackled.
Today Indian government has opened the gates for offshore companies to come in India to have their business in India. These companies are contributing to India's GDP along with other sources. Today NAMO's "Make in India" is showing its magic and Indian business sector is growing at high rate. New government has also taken few steps to promote the entrepreneurship and start-ups.
Opportunity:
Being a county of 1.252 billion population, India is second largest market for the business in the world. This fact is encouraging offshore companies to come in India for investments. Today because of E-Commerce boom and high internet penetration sellers are reaching to large number of population and buyers are having the stores on their palm.
India is the second largest country by population in the world. Population of India according to 2013 data was 1.252 Billion. According to Census report, 68.84% population lives in rural part of India as compared to 31.16% of urban population.

Also there is notion about rural India is people have low disposable income and they are poor. But considering the development in certain states of the country I think it's doubtful. Most of the residents of the rural India are gaining from business, trading or agriculture. They are upgrading their lifestyle and increasing their disposable income level. National Council of Applied Economic Research shows that in the last ten years, the income of rural India has grown several-fold. Also today 50 to 60 percent of the rural people are doing other businesses rather than agriculture. People are moving to upper class from middle-class and from lower class to middle class.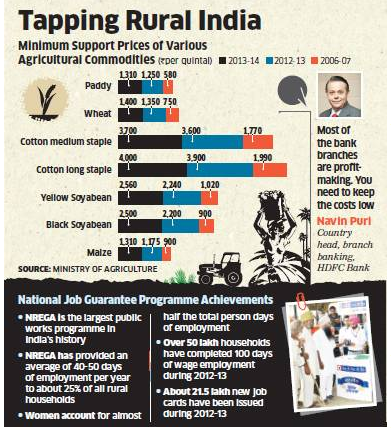 (Source: Economic Times- http://articles.economictimes.indiatimes.com/2014-01-22/news/46463030_1_rural-branches-kotak-mahindra-bank-navin-puri)
According to Economic Times most of the private sector banks are now targeting rural Indian market for their growth. Urban market is now going towards saturation and has lower slope of growth as compared to Indian Rural Markets. Indian Rural Markets are having huge potential to grow. They are now not limited to Shampoos and Motorbikes.
FMCG companies are growing 14% in rural markets of India as compared to 8% of urban market. Also more than 80 % of the villages are now connected by the roads and they are accessible for commercial purpose. Multinational corporations, from Coca-Cola to Nokia, appear increasingly keen to understand Indian villagers.
Relating Indian Rural Markets with E-Commerce:
Basically this article was targeted to Promotion of E-Commerce in Rural India and Opportunities available.
Today Amazon India delivers in rural India using India-Post. Today India Post is reachable in each part of the country. 89.76 % post offices are located in the rural India. Because of the changing technology adoption India Post has improved its quality substantially. Today consignment can be tracked online, anything can be send anywhere.
BSNL has targeted to connect every village of India by broadband connection. They have presence in 602 districts of India and still they are expanding.

According to Times of India and DNA article India has 173 million internet connections users by the end of 2014. It is expected to grow to 213 Million by June 2015. Mobile Internet users in rural India is showing growth rate of 33% to reach 53 million users by that time.
Conclusion:
Indian Rural Market is calling E Commerce implementation. Companies like Flipkart, Snapdeal should target this rural market in coming future. Resources available such as Indian Post, BSNL internet connectivity can be promoted.
When all these things become synergistic to each other, it will be great opportunities for E Commerce giants. E Commerce giants can promote internet connectivity by different service providers in the rural India. Also on the other hand logistic resources such as Indian Post service can be used effectively so that automatically use of E-Commerce will boost in the rural India.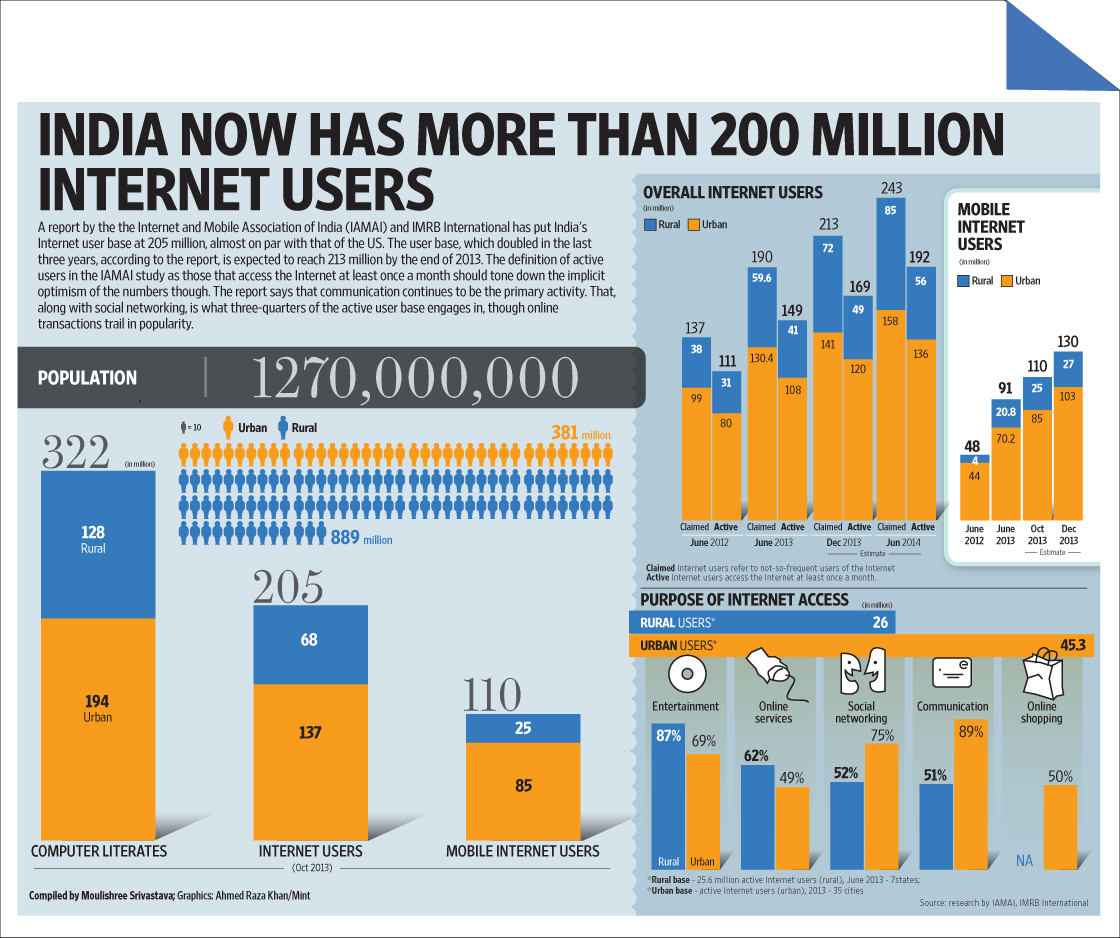 (Source: http://www.livemint.com/Consumer/9pWsphmYL2YjdisfO7bGLM/Internet-base-in-India-crosses-200-million-mark.html)