Today it is very easy to turn on TV, fridge, fan, and oven without moving from the place. It is common to know about the location of the parked car in the parking just by a single click. And now a days it is not too surprising to have application on your cell phone which can control all the appliances of your home & office. This is what we are talking about. This is what the technology is bringing the change to our lives. This is new generation of Internet of Things (IoT). Internet of things can be defined in short as,
"Amount of the devices around us being connected to each other through
internet to form a network which can be monitored and controlled. All these devices will be able to interact with their environment, recognize as individuals and able to help us, guide us. This is a start of making life smarter and effectively easier."
Today around 12 billion devices are connected to each other. According to BCG research, 550 million consumers will be connected to each other which is equal to 40 percent of the population by 2018. (Digital India: Insights for Marketers and Media Companies). Also 70 percent of the mobile users in the rural area will be connected through internet. This is the potential of IoT. IoT is shaping our world into smarter and intelligent ecosystem.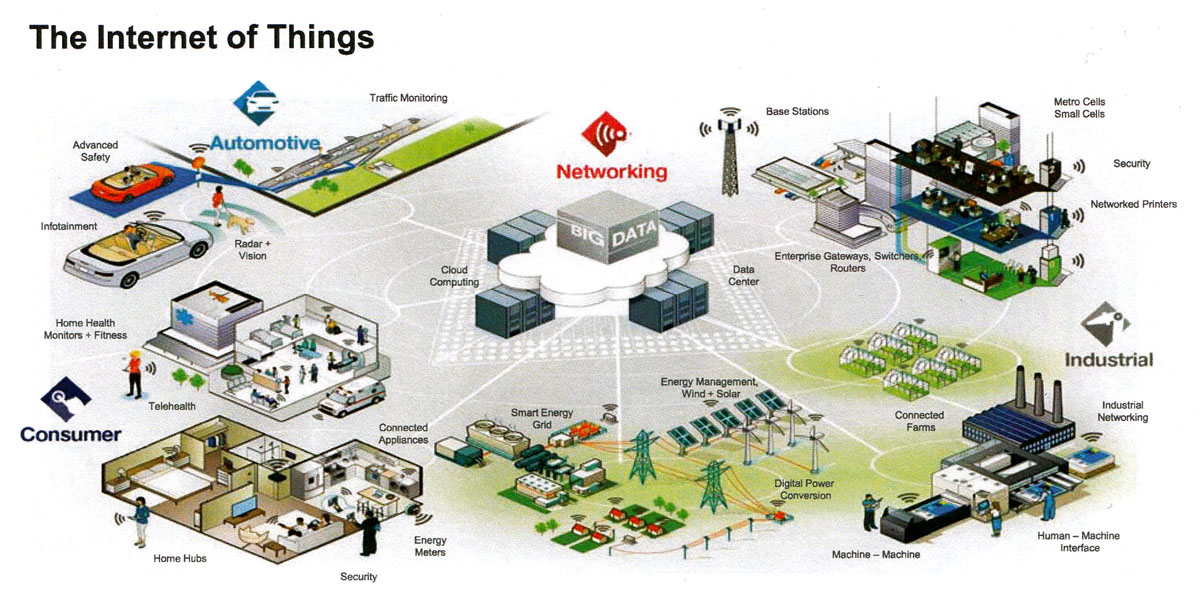 Today IoT is playing role in making day to day life simple. It is contributing to make business more efficient. IoT has already started its presence in the different business sector such as Manufacturing, Data Analytic, Food industry, Real time waste management, Healthcare & Pharmaceuticals, FMCG etc.
IoT in day to day life:
Cloud based technology made the break through innovation for all of us. Today we can store our data on the cloud and we can access it from anywhere from another device. Students will be free from heavy schoolbags. You can get connected to all of your home appliances, your car, or all other things through your mobile. We are able to track our children to increase their security. Even a farmer in the small village can check the status of his motor-pump on the well or river with just a one click. He can control it without physically going there.
We working on d
river-less cars. Automation of traffic. Which will be highly safe. Your car will take you to your destination. You don't have to worry about safety. Signals on the road will be automatically followed without police.
IoT is about to transform healthcare industry. There will be no need to meet the doctor physically. Your watch will take care of your health automatically and it will guide you time to time.
In case of emergency you will be taken care by your machines and devices. Your car will automatically take you to your doctor.
We are revolutionizing our education system. We are looking ahead to Computer and information technology as a teacher. Each student will have tablet and he can be taught with real time lectures from the best professors in the world. We are moving towards "World with one University" culture.
Already world is connected with mobile and internet. We are able to see each other from any corner of the world through video calls. But IoT will take this much forward. We will able to make 3D calls with each other. Though people are far apart from each other in two distinct corners of the word, they can seat together and have our dinner just like if they were together at the same home. IoT will take us into the reality of "Global Village".
IoT in Business & Corporate Life:
IoT will add value of $ 1.9 trillion to our business. It will open new doors of opportunities. We will be take our whole office in our palm. We can manage our office activity being anywhere in the world. You can monitor all the activities of your employees using a tablet. Computer will analyze every situation and provide you with best possible option available.
Cloud technology is already helping the business sector. Big data analytic has became the crucial part of the business. It will be by the network of intelligent devices on their own.
Enterprise mobility is shaping our business in modern format. We are able to locate our employees, track and monitor their activities, and implement new strategies on field. We don't have to be in the office to do all these things. We are now able to take our office along with us. Wherever we go.
Opportunities:
There are many start-ups opening based on IoT. IoT is going to open new opportunities, such as data security, Device Management, Network Management etc. According to research by Mario Morales, IoT will open opportunity of $4 trillions, 4 billion people will be connected through IoT.

We are moving from internet of things (IoT) to Internet of Everything (IoE). But will bring some challenges such as security & Management. It is just like a riding a line. It is pride but we have to handle it with care.
In short IoT is transforming our lives.
References:
Volvo : Driver-less Car Concept
Future 3D call concept
Gartner: research paper on IoT
Research paper by Cognizant
Concept of Smart Cities
Images: Google